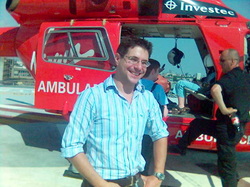 Dr. Howard Fine BSc (Hons) MSc PsychD C.Psychol AFBPsS
Consultant Clinical Psychologist
Paediatric Neuropsychologist
Dr. Howard Fine is a Consultant Clinical Psychologist, and co-founder/Director of
Recolo UK Ltd
, offering expert, high quality and effective community neuropsychological rehabilitation to children and their families. Dr. Howard Fine had previously worked within the NHS at the Royal London Hospital, where he offers specialist supervision, consultation and teaching in Paediatric Neuropsychology, Traumatic Brain Injury, Post-Traumatic Stress Disorder (PTSD), and neuropsychological assessment. He also offered specialist child neuropsychological consultation services for clinicians working in the London boroughs of Tower Hamlets, Hackney and Newham. He has also chaired the London Paediatric Neuropsychology Special Interest Group.
Following on from his doctoral research on 'Resilience to PTSD in Emergency Workers', he has offered consultation to the London Helicopter Emergency Service and London Underground following the July 2005 London bombings, as well as offering specialist educative support and consultation to local Mental Health services. He is also a member of the Foreign & Commonwealth Office's / British Red Cross Emergency Psychosocial Support Team, responding to international disasters involving British nationals, with previous deployments to Portugal, Zimbabwe, and Algeria. Dr. Howard Fine also sits on the Clinical Advisory Group for the National Trauma Networks, advising on policy and service provision for frontline trauma services.
Lecturing
Dr. Howard Fine is a sessional lecturer at Birkbeck College, University of London, responsible for developing courses and lecturing on the Foundations of Modern Psychology, Psychology of Child Development, Psychological Factors in Chronic Illness, Health Psychology, and the Psychology of Terrorism. He is also a visiting lecturer at the University of East London, University College London (UCL), University of Surrey, Royal Holloway University of London and Canterbury Christ Church University (Salomon's), lecturing on to the Doctoral programmes on Paediatric Neuropsychology. Dr. Howard Fine also contributes to the UCL
MSc Clinical and Applied Paediatric Neuropsychology Training Programme
(accredited by the British Psychological Society).
Media
Dr. Howard Fine has appeared on the BBC 10 O'clock News and Sky News consulting on Psychological aspects of terrorism and mass trauma events affecting children, bullying, and child development. He has also appeared on Channel 4 programming on child development and education. Dr. Howard Fine is a Consulting Psychologist on a number of documentaries and health education programmes for the BBC, Channel 4, ITV and Sky. Recent contributions include
Born Naughty
?,
The Secret Life of 4, 5 and 6 Year Old
s,
Junk Food Kids: Whose to blame?
,
15,000 Kids and Counting
,
Breadline Kids
,
My Violent Child
,
Mr. Drew's Summer School
,
Educating
Essex / Yorkshire / London,
The Last Chance School
,
Bedtime Live
,
The Undateables
, Bullied (MTV), Minds Like Ours, Jamie Oliver's Dream School, Jo Frost's Extreme Parental Guidance, Dispatches, Cutting Edge and Panorama.
---
MEMBERSHIP OF PROFESSIONAL ORGANISATIONS
Foreign & Commonwealth Office / British Red Cross Specialist Psychological Emergency Trauma Support Team – Responding to International disasters involving British citizens (Henry Dunant Award, 2012).

British Psychological Society (Chartered)

HCPC Registered Psychologist

Register of Applied Psychology Practice Supervisors

BPS Division of Neuropsychology (Full Member)

BPS Division of Clinical Psychology (Full Member)

BPS Faculty for Children & Young People (Member)

British Association of Behavioural & Cognitive Psychotherapies